Dyslexia screening plus reading, spelling, writing, grammar, and typing instruction for students aged 5+

From $170 a year.
Includes 1000's of printable worksheets and flashcards plus the eBook Dyslexia Explained.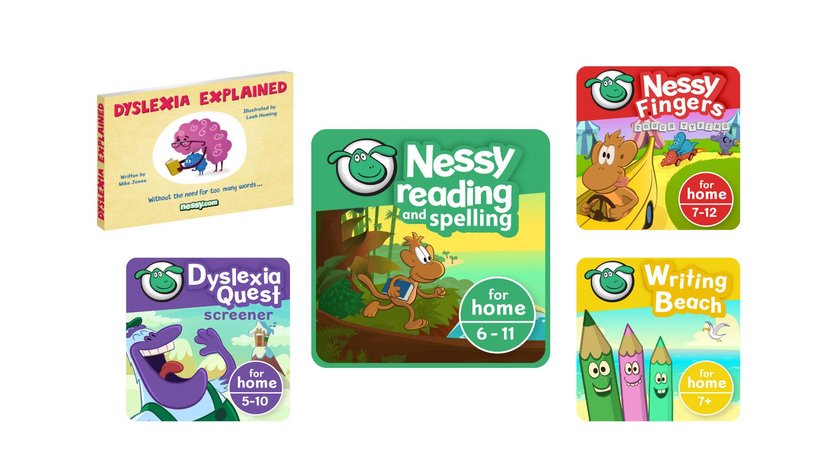 If you have a dyslexic child and you are thinking of home-schooling, then this pack is for you. ​​​​​​​​​​​​​​
Screen your child for dyslexia then follow up with individualized lessons in reading, spelling, writing and typing.​​​​​​​​​​​​​​

​​​​​​​The place to begin is to understand more about dyslexia and the way dyslexics learn, so it is important that both you and your child read our book, Dyslexia Explained, together.



Use Dyslexia Quest to screen your child and learn more about their type of difficulties.
"I have seen first hand how these games capture my kid's attention. They are funny, give instant feedback and they are also very encouraging. When my kid gets something wrong she does not feel defeated and she still wants to play."
– Amanda Mccraw
The next step is to use Nessy Reading and Spelling. The program begins with an evaluation that will identify what your child needs to learn, and automatically sets learning targets. The learning targets can be seen in the child's progress report, which is just like an individualized lesson plan.
The program adapts and adjusts to the needs of the child. It is very important that no help is given when taking the initial assessment, this ensures that the best lesson levels are set. When a child's lessons focus on the things that they need to learn, progress is faster and more efficient.
Nessy Reading and Spelling addresses the key components of literacy - phonemic awareness, phonics, fluency, morphology, vocabulary and comprehension. Spelling is taught in the most efficient way, alongside and integrated with, phonics and reading. The program comes with 1000s of printable activities including worksheets and card games.
​​​​​​​
"It was more extensive and inclusive than any other product I purchased and responsible for 100% of our reading success. It was the single most valuable product I could have come across."
– Gail Camenzind, Home Educator
Nessy Fingers gives a multi-sensory way to practice spelling, while improving spelling. The word lists that are studied in Nessy Reading and Spelling are also included with Nessy Fingers. You can even create your own custom spelling lists for extra practice.
"It really is very simple and great fun. My 7 year old dyspraxic son doesn't even realise we are teaching him to type…it's a treat that he gets if he has been good."
- Matthew, Parent
Writing Beach introduces grammar, parts of speech, sentence construction and uses games to make learning to write fun. Remember that writing is a multi-sensory skill and utilize all the printable resources as your child is working through this program.
The Nessy Learning programs are all online and accessed through a computer or touch screen device.
"We love Nessy Writing Beach. It builds up the students confidence step by step and gives the teacher great planning ideas for games when developing more interesting sentences for story or poetry writing."
– Deborah Redding, Head of Learning and Curriculum Support, Badminton School
​​​​​​​
1 student licence of Dyslexia Quest screener

1 student licence of Nessy Reading and Spelling

1 student licence of Writing Beach

1 student licence of Nessy Fingers Touch Typing

1 copy of the Dyslexia Explained eBook

​​​​​​​