How To Teach a Dyslexic Child to Read
Dyslexia is a very common learning difficulty that can cause problems with reading, writing, and spelling. As many as 1 in 5 people have dyslexia, and it affects just as many boys as girls.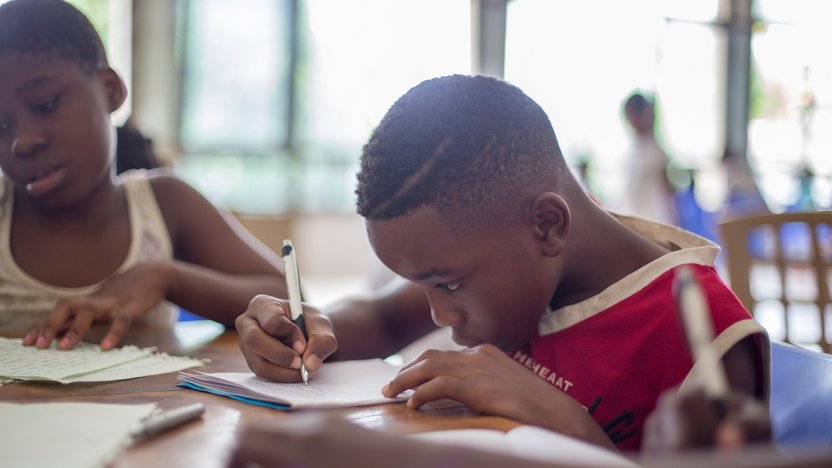 Nessy believes that early identification followed with the right teaching approach gives people the best chance of overcoming their difficulties. Dyslexics are more likely to succeed at school, in jobs, and in life, if they get the right kind of teaching and support from an early age.
​​​​​​​
Learn how to help a child with dyslexia from the age of 3 to 18 years old.
How To Help a Child: 3-4 years
How To Help a Child: 5-7 years
How To Help a Child: 8-12 years
How To Help a Teenager: 13-18 years
How should a dyslexic child be taught to read?
Structured Synthetic Phonics (SSP) is widely regarded as the most successful approach to teaching reading and spelling. It follows the principles of Structured Literacy, research proven by The Science of Reading.
The Science of Reading is everything that is scientifically known about how children learn to read, and the most effective way for reading to be taught. The Science of Reading is not a methodology or system designed to teach reading, it is a process which uses the scientific basis for teaching reading to help children become competent readers.
Learn more about the Science of Reading in this short video here.
Nessy is a highly effective program for whole class teaching based on the Science of Reading. The program uses Structured Literacy, so it is also ideal as a support for children who have fallen behind, especially those with dyslexia.
Hairy Reading is a Structured Phonics reading program for ages 4-6. The program includes all the essentials necessary for foundational pre-reading and reading skills. It includes instruction in morphology, orthography, high frequency "tricky" words, vocabulary, and reading fluency. The Hairy Reading program has been specifically designed to provide a strong foundation in phonology while phonic knowledge is being learned for use at home and school.
Nessy Reading and Spelling covers 5 years of literacy development from Year 1 to Year 6 and can be used at home and school. The program begins with systematic synthetic phonics. As literacy skills develop, students advance to instruction in spelling, morphology, vocabulary, and comprehension. The program guides each student through an individualized learning plan. Each student learns independently at their own pace, gradually building confidence.
What can you do at home to build reading skills?
Nessy is on a mission to support teachers and parents. We provide free educational resources including worksheets, flashcards, eBooks, and teaching videos, to support learning both at home and at school.
Here are some free Nessy activities to help your child learn while also having fun!
Alphabet Letter Sounds
The Nessy approach introduces letter sounds in the following small groups:
1. s a t p
2. i n m d
3. h e r c k
4. g o l f
5. b u j q
6. v w x y z
Use flashcards to learn a group of sounds, then immediately begin to blend words using the jigsaw words. Develop letter formation skills after the reading activities.
When all the sounds have been learned, try playing the Smarty game.
Phonic Sound Cards
Did you know there are more than 40 different sounds (phonemes) in English? The Nessy Phonic Sound pack is a great way to learn them all.
Children need to know the sounds and names of the alphabet before learning the phonic sound pack. Do not try to learn all the cards at once. Suit the pace of learning to the ability of your child.
Learn the cards in this order for reading, and split them into these stages:
Stage 1 sh | ch | tch | th | qu | wh | ph
Stage 2 ar | or | er | ir | ur
Stage 3 ee | ea | ay | ai | igh | ie | y
Stage 4 oa | oe | ow | oo | ui | ue | ew
Stage 5 oy | oi | ou | dge | ge | ce | ey | ei
Stage 6 ear | air | au | aw | wa | war | wor
Nessy Reading and Spelling
This program has 100s of lessons packed with videos, motivating games and 1000s of supporting printable worksheets and card games. Each student learns independently and at their own pace, gradually building confidence.
Hairy Reading
Perfect for children who are not yet ready for the Nessy Reading and Spelling program, this program includes a range of decodable phonic books, 100s of printable worksheets and games, training videos and lesson plans for parents/teachers, lots of games and 100 learning journeys designed for daily learning sessions!
Sign up for a free trial here of both programs. There is no obligation, and no payment details are required.
Testimonies about Nessy
"Nessy has been an incredible tool for our family. It has helped my dyslexic daughter make progress and has helped my non-dyslexic son fly through phonics and learning how to read with a fantastic foundation. They both love it. It is by far the best program we have used (and we have used MANY)."
- Meghan, Home Educator
"I can't express strongly enough how much we appreciate your program and what it has done for my daughter. When starting your program, my daughter read at a beginning 2nd grade level, 2 years behind her actual grade level. We pulled her out of public school, began homeschooling and used your program daily. In less than a year, my daughter is now reading at a 5th grade level, her current grade level."
- Crystal Lovato, Parent
"Nessy is an awesome program. It is extremely easy to navigate and the reinforcement activities are plentiful. During our summer program, the 2nd grade students asked daily to use Nessy. I found that three of my most academically challenged students enjoyed Nessy tremendously. These three students always walked out of the computer lab feeling accomplished. There is nothing better as a teacher than to see your students when that light bulb goes off and they get it!!"
- Sandy Vitale, Teacher