Time-Saving Tips for Busy Homeschool Parents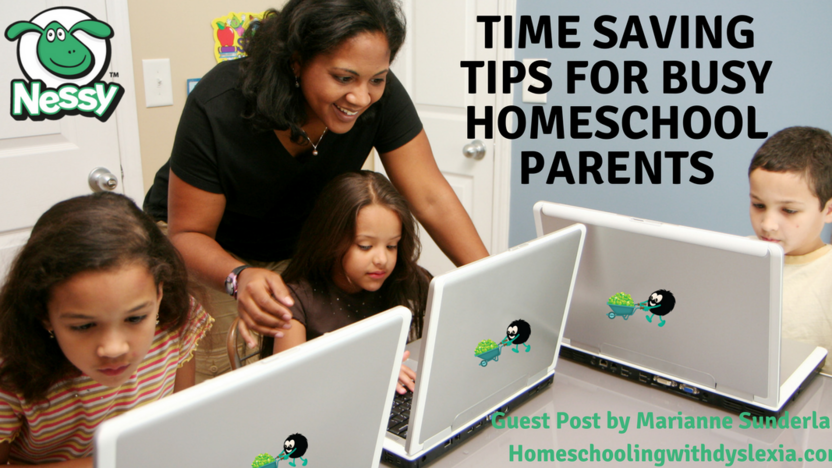 I could have titled this post, How to Get it All Done in Your Homeschool, but that would have been misleading. The truth is no one ever gets it all done!
In all seriousness though, teaching a child (or 2, or more) with dyslexia can be a time-consuming process. From actually teaching them to read, to reading their textbooks to them, to explaining math concepts, students with dyslexia are less independent than their peers who are traditional learners – at least for a few years.
So how can we get more done in our day-to-day homeschooling?
Top 5 Homeschooling Tips:
1. Curriculum Choice
Choosing a traditional textbook approach is rarely a good option for students with dyslexia. Unless you are able to obtain an audio version of the book, you will likely be reading the text to your child. Choose curriculum options that have audio and visual components or even online or computer-based programs. These programs often speak the lesson (cue angels singing) and provide video instruction that makes the information accessible to your kids who aren't yet fluent readers.
2. Combine Subjects and Ages
While the teaching of reading and math needs to be highly individualized, subjects like history, science, literature, and the arts can be done as a group with all of your kids. Allow younger kids to build with Legos or blocks, draw, color, or play with PlayDoh as you read out loud or alongside you as you do a hands-on experiment. Aim for the ability level of the middle-aged child and adjust slightly for older or younger kids.
3. Delegate Responsibilities
Children are amazingly capable people. Harness some of that endless energy. Six-year-olds can keep an eye on the baby in the bouncy seat while the 10-year-old reads to the toddler. Older kids can prepare meals and help with housekeeping. There is no way that you can homeschool your kids, cook, clean and drive everyone to their outside activities without help! One of the best things I've done as a busy homeschool mom is to learn to delegate!
4. Get Help
Several years ago, out of desperation, we hired an Algebra tutor for one of our high schoolers. What a revelation! Our daughter had the help she needed (as well as the accountability) and it was one less thing for me to tackle each day. If hiring a tutor isn't an option, consider trading services with a friend. They can teach a subject that you struggle with and you can watch their kids, make their family dinner, or some other service.
5. Expect the Unexpected
There will be days when kids are sick, or the toilet overflows or some other distraction will take you from your ideal school day. There are seasons of homeschooling, especially with lots of younger kids, when there are more distractions than not. This is normal! Have a few things set aside that can be completed independently for these kinds of days.
Some Suggestions:
Print off some Nessy worksheets
Pull out an audio book
Purchase some hands-on silence science or craft kits
Have a variety of games kids can play on their own
Juggling all of the demands of being a homeschool parent can be difficult at times. Having the right expectations is half of the battle. There will be good days and bad days but in the end, homeschooling is still effective and beneficial, especially for kids with dyslexia.
What tips do you have for busy homeschool parents to get more done?
Click here to check out her website.
By Marianne Sunderland