What are Cookies?
A cookie is a small text file which is sent by a Web server to your computer whenever you visit a website. As is common practise with almost all websites, Nessy uses cookies to improve your browsing experience.
Session cookies are only stored for the duration of your visit to Nessy and will be removed when your browser is closed.
Permanent cookies are stored for a period of time and are used to identify you when returning to this site.
First Party Cookies
The following first party cookies are set by this site: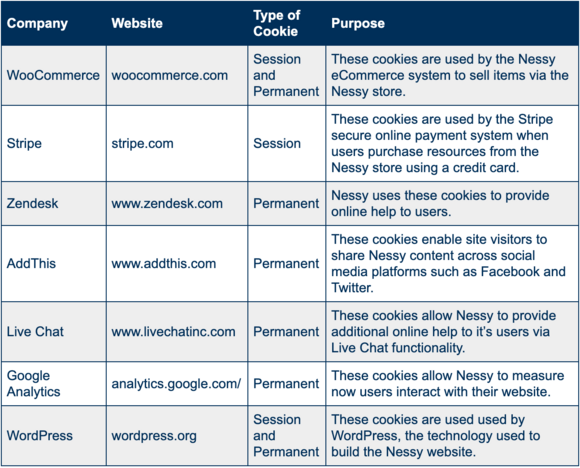 Third Party Cookies
This site includes functionality from third party sites such as YouTube, Google Analytics and PayPal, these companies may set a third party cookie on your computer.
If you link content from Nessy to sites such as Facebook or Twitter, these companies may also set a third party cookie on your computer.
The following is a list of third-party cookies you may see whilst browsing the Nessy website.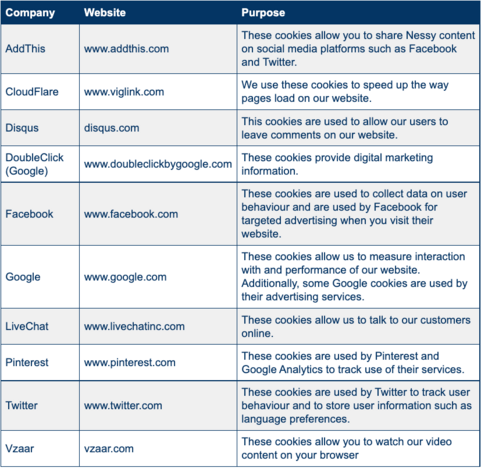 How to Disable Cookies
Most browsers allow you to refuse to accept cookies. See your browser Help for information on how to do this. Be aware that disabling cookies may affect the functionality of this and many other websites you visit. Therefore, it is recommended that you do not disable cookies.
Another option is that you can opt out of Google Analytics without affecting how you visit our site – for more information on opting out of being tracked by Google Analytics across all websites you use, visit this Google page.